"A radiant smile before you know it"
Invisible aligners
The invisible aligner is made from thin, transparent plastic, making it invisible to the people around you. You slide the covers over the teeth and molars. Replace them every other week for the next set to move your teeth to the desired position.
A radiant smile in no time
Dentists and orthodontists like this product because it has proven itself over the years as a good alternative to lingual, ceramic and incognito braces. Both adults and teens can be treated.
The solution for straight teeth
Experience the innovative orthodontic solution without brackets. Invisalign makes it seem as if your teeth are straightened without braces. The quick way to straight teeth without fixed or traditional braces.
The benefits
The orthodontic treatment with Invisalign's clear braces offers several benefits over traditional braces.
Invisible – transparent – clear
No one will know you are receiving orthodontic treatment. It will be like your teeth are straightened without the use of braces
Comfortable & removable
Should you have an important appointment and the mouth guard makes you uncomfortable, it's no problem to take it out for a short period. Moreover, because the braces are removable, you can still brush your teeth and floss, thereby keeping up your dental hygiene.
Still eat what you want
The covers are to be taken out when you eat, so no remains get stuck in them. There is no need to adjust your eating and drinking patterns.
Play sports without hassle
There are no metals in your mouth, so no danger to injure yourself and others.
No white spots on teeth enamel
This happens very quickly when wearing braces with brackets, but it's no issue with Invisalign braces. Your teeth will be straightened quickly and without brackets.
Quick and effective treatment
A radiant smile in no time. Correcting your teeth with the braces has never been more comfortable.
Invisalign attachments
We use the Invisalign attachments to accurately rotate your teeth.
Invisalign attachments
We use the Invisalign attachments to accurately rotate your teeth.
General checks every 2 to 3 months
No time-consuming monthly checks. It's one of the benefits of dental alignment without traditional braces.
3D simulation
Before you start, a 3D video will show you how your teeth will be arranged to form a perfect arc.
No hassle in daily life
Do whatever you want, the braces will never be in the way.
Who can receive the treatment?
You will be invited for an intake interview in order to establish whether or not you can receive the clear braces treament. The practitioner will study your teeth and advice you on the next steps. You have a 95% percent chance to be eligible for the clear braces treatment. You can find an overview of cases which can be treated with our clear braces below.
Overbite
The upper front teeth overlap with the lower front teeth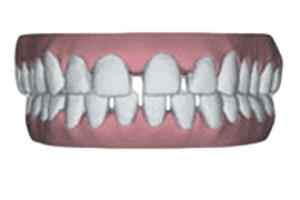 Gap teeth
Extra space between two or more teeth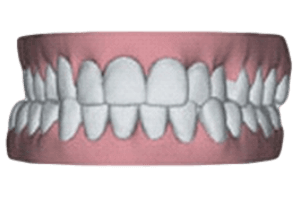 Crossbite
The teeth and molars do not close symmetrically.
Crowded teeth
There is not enough room in the jaw for all the teeth, so they overlap and twist.
Europa top 50 provider
Comfortho has been one of the top 50 Invisalign providers in Europe since 2016. We were evaluated by an external party on Quality, Cases and Expertise. View our profile on the official Invisalign website and you will see all our ceriticates.
Are you curious to know if it's possible for you to receive this treatment? Take a selfie of your teeth and send it to us via e-mail or Whatsapp, so we can advice you immediately.
"Professional practitioners; they felt trustworthy right from the start, and after 9 months the results have been amazing. Thank you!!"

Marlies Bontjes, Utrecht
The steps in the Invisalign clear aligner treatment
Intake
During the intake, the practitioner will set up a treatment plan with you, based on your wishes and the possible options.
Photos
Next, your teeth will be scanned and photographed. After approximately 2 weeks, you will be shown a 3D simulation showing treatment duration and results.
Placement
As soon as your custom made braces are ready, we will invite you place the braces and explain the rest of the program to you. From that point onward, we will see you every 2 months for a general check up.
Final check-up
When you finished the treatment, we will do a final check.
You will wear the braces for at least 22 hours every day. Take them out only for eating and brushing your teeth. Replace the set for the next one every 14 days. This way, your teeth are moved to the right position step by step.
0
%
Of people can be treated with the clear braces
0
Patients received the treatment
0
%
Of treatments were effective
"No one can see that I'm wearing clear braces. :)"

Sandra
The practitioners
Lotte Meereboer and Menno Haarsma have been Invisalign aligner specialists for years. They will thoroughly examine your case so that you will have that radiant smile as soon as possible.
The practitioners
Lotte Meereboer and Menno Haarsma have been Invisalign aligner specialists for years. They will thoroughly examine your case so that you will have that radiant smile as soon as possible.
Concluding
Clear braces have many benefits when compared to traditional braces. Dentists and orthodontists like to work with this solution, because it has proven itself as a good alternative to traditional braces. Patients have been positive all-round about the treatment. The solution is transparent and quick. The costs, insurance coverage and duration of the treatment are similar to traditional orthodontic solutions. Should you need more information about Invisalign's clear braces, please don't hesitate to call or use the contact form on our website and get in touch.
The origin of the clear braces
The Invisalign braces were created by a scientist when he noticed that his teeth started to shift if he didn't wear his night retainers. When he put them back in, his teeth and molars went back to the position he wanted them to be in. This gave him the idea to write computer software which would help to replace traditional orthodontic treatment with synthetic covers. Patients subjected to traditional treatment all had the same issues: brushing the teeth and general dental hygiene became problematic and braces would hurt their teeth every time the orthodontist tightened the wires. The designers took in all these issues and worked to change the problems of orthodontic treatment into positive solutions.
In doing so, he developed thin plastic covers to slide over the teeth and molars. The covers are to be replaced every other week. A huge benefit of this approach is that the pressure on the teeth is significantly less than a monthly visit to the orthodontist. Furthermore, because the covers are transparent, they do not interfere with daily life. They also allow brushing of the teeth, because they're removable. This also means you can take them out on certain occasions, like an important meeting. Through our years of experience with the clear braces and the beautiful results we've seen, we are more than convinced of their worth as an orthodontic solution. Should you require a different solution, we are more than happy to help you and share advice. You can view our YouTube videos on orthodontics for more information.
Patient experiences
Je tanden recht zonder beugel. Zo voelt het!

Met de onzichtbare beugel van Comfortho kun je binnen 6 tot 9 maanden snel rechte tanden krijgen. Topervaring met gehad met Comfortho.

Het is net alsof je rechte tanden zonder beugel kunt krijgen met de Invisalign aligners.

Tanden rechtzetten zonder blokjes! Met deze 6 maanden beugel had ik supersnel rechte tanden.

Deze onzichtbare beugel is echt aan te raden, want het is net alsof je je tanden laat rechtzetten zonder beugel. In ieder geval ziet niemand het.