Clear braces
Have you always wanted to fix the position of your teeth but never wanted to use traditional, visible dental braces with brackets? The field of orthodontics has developed quickly over the past years and Inivisalign's clear braces have made it possible to decide at any age to straighten your teeth without anyone knowing!
The treatments consists of a number of thin, clear synthetic covers which slide over your teeth. Within a short period of time and without you even noticing, you will gain that radiant smile! Straightening your teeth improves your health and boosts your confidence!
Straighten your teeth at any age
The benefits
Orthodontic treatment using Invisalign's clear braces has many benefits over braces with brackers, ceramic braces and lingual braces.
| | | |
| --- | --- | --- |
| | Clear braces  Invisalign | brackets, lingual, ceramic and incognito braces |
| invisible | yes | x |
| comfortable | yes | x |
| removable | yes | x |
| custom made | yes | x |
| good dental hygiene | yes | x |
| eat what you want | yes | x |
| play sports without issues | yes | x |
| no white spots on tooth enamel | yes | x |
| quick, efficient treatment | yes | x |
| brush teeth and floss as usual | yes | x |
| no irritating metals in your mouth | yes | x |
| progress check every 2 months | yes | x |
| use Invisalign attachments to precisely rotate teeth | yes | x |
| seeing progress and results in a 3D simulation | yes | x |
| no hassle in daily life | yes | x |
Who can receive the treatment?
Adults and teens can receive the clear aligner treatment. In most cases, it will improve their situation.
Overbite
The upper front teeth overlap with the lower front teeth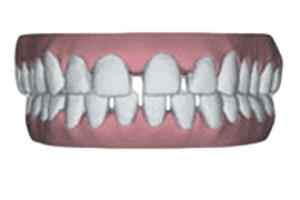 Gap teeth
Extra space between two or more teeth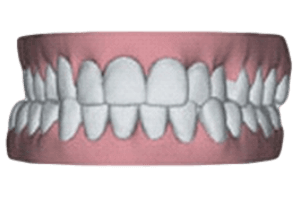 Crossbite
The teeth and molars do not close symmetrically.
Crowded teeth
There is not enough room in the jaw for all the teeth, so they overlap and twist.
Why Comfortho
Uses Invisalign's clear braces?
Make a selfie
for immediate
advice
Are you curious to know if it's possible for you to receive this treatment? Take a selfie of your teeth and send it to us via e-mail or Whatsapp, so we can advice you immediately.
"Fantastic results, after 12 months my teeth are straight again. I can recommend the treatment to anyone."

Hans Font, Amsterdam
Intake
During the intake interview, the practitioner will set up a treatment plan with you, based on your wishes and the possible options.
Photos
Next, your teeth will be scanned and photographed. After approximately 2 weeks, you will be shown a 3D simulation showing treatment duration and results.
Placement
As soon as your custom made braces are ready, we will invite you to put them on and explain the rest of the program to you. From that point onward, we will see you every 2 months for a general check-up.
Final check-up
When you've used up all braces, we will do a final check
You will wear the braces for at least 22 hours every day. Take them out only for eating and brushing your teeth. Replace the set for the next one every 14 days. This way, your teeth are moved to the desired position step by step. See the costs of Invisalign braces.